« 9- winter snow and summer tulips | Home | 11- lights, peace and giveaway! »
By spotogspindel | December 10, 2011
I´ve got the world on a plate!
Or at least part of the world.
Africa. And part of Europe….
I fell for this big plate with an old map on it. let´s call it a pre-Christmas present for the home.
My tweedie-late-bird is astonished at the size of the thing.
The other night he was amazed at my doily table-runner. It used to be white… now it´s turquoise…
(He´s actually very easily surprised… )
So, moving ever so swiftly on…
I´ve sold so many bread-bags through my Etsy-shop and through Marianaden´s Bømlapakke, that I´ve had to make a new batch. So now there´s a whole pile of "gathers pleasures". It´s still not too late to get a very special handmade gift!
They´re made from 50% linen and 50% rayon, and keep your breads fresh a little longer! Print is in fabric-paint, and they are machine-washable.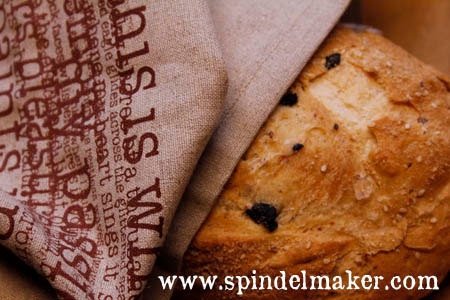 The island is on te west-coast of Bømlo, and the text is from my poem "On the shores".
Today in the advent activity calendar is says:
Read and learn about a country starting with the letter A.
As much as you can learn about a country you don´t know much about from before. Only criteria is that it needs to start with the letter A.  All in all eleven, and at least three on the plate…
Topics: Christmas, textile | 1 Comment »
One Response to "10- I´ve got the world on a plate!"
gail Says:
December 10th, 2011 at 16:48

I would have been tempted by that plate, too! What a good idea for doilies, I have a box of them somewhere . . . I have way too many things "somewhere," I really need to clear out that basement!
Comments